Oct. 31, 2023
At the end of October each year, there's more than just one kind of treat on people's minds. When it comes to the foods we enjoy to celebrate Halloween, pizza has become nearly as popular as chocolate and candy – making spooky season extra fun for us at Papa Johns.
In fact, HalloWeekend (the Friday to Monday period around Halloween) is typically the busiest time of year at Papa Johns. Sales during Halloweekend 2022 were 25% higher than any other Friday – Monday stretch that year. Across North America, Papa Johns team members prepared more than 500,000 orders of pizza, sides and desserts for Halloween gatherings large and small.
Serving millions of ghouls and gals may sound like a frighteningly big job. Fortunately, we seriously LOVE pizza because it brings people – and monsters, ghosts, witches and goblins – together. So, how do we keep all those party-goers and trick-or-treaters happy, while still having fun ourselves?
Here are a few of the secrets to our Halloween "spell" of BETTER INGREDIENTS. BETTER PIZZA:
It takes a coven
In the weeks leading up to Halloweekend, team members across Papa Johns – from our corporate hubs to our Quality Control Centers – join together to "REV It Up!" by donning aprons and heading to Papa Johns restaurants, where they lend helping hands to teams by folding pizza boxes, prepping our fresh ingredients and more to ensure all is ready for the big weekend.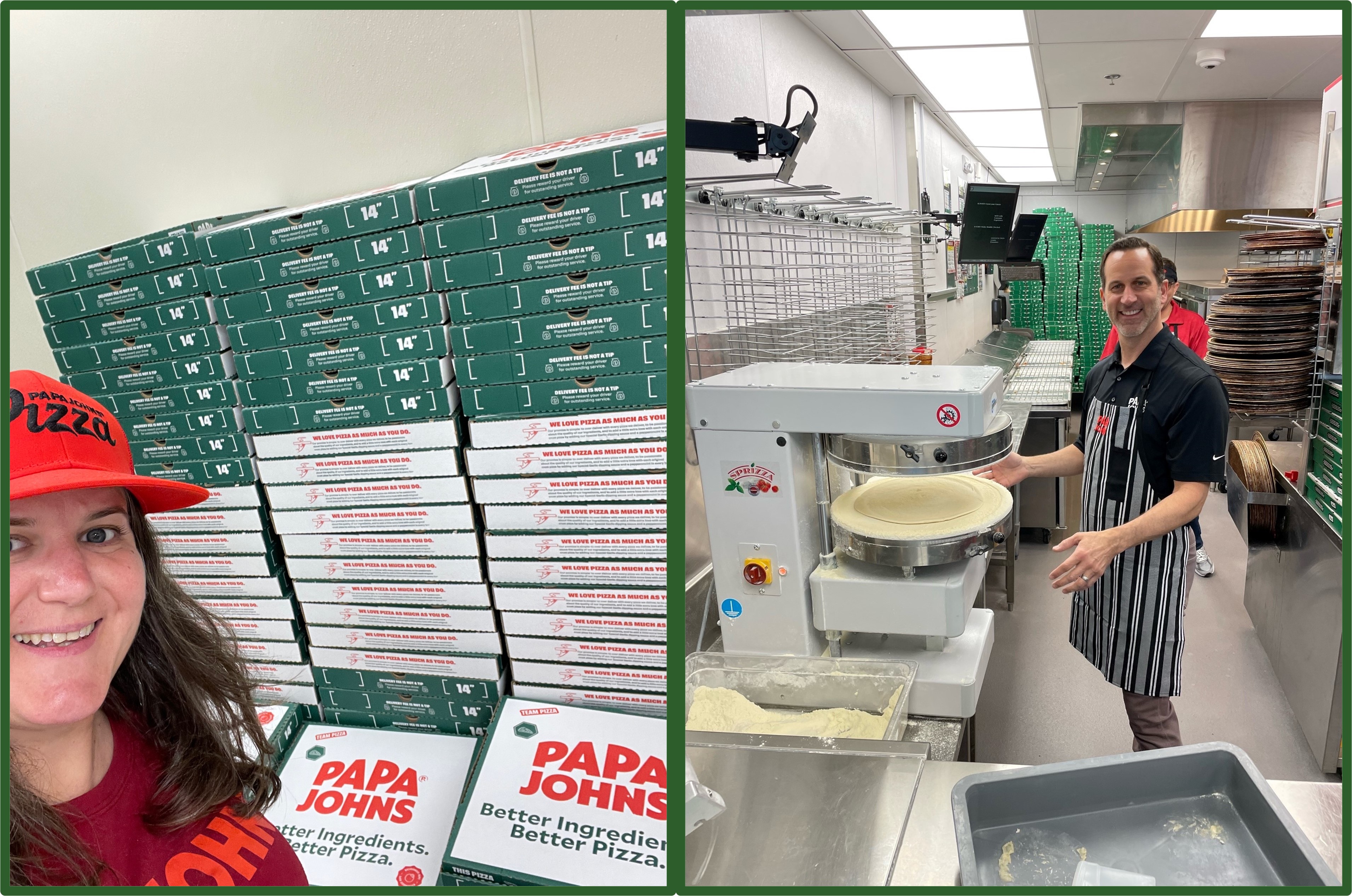 Stock up on treats
Starting the first week of October, restaurant leaders begin ordering higher volumes of ingredients – gradually and smartly, using advanced data analysis – to ensure all restaurants are properly stocked through our company-owned network of Quality Control Centers, which produce our fresh, never-frozen dough and distribute our high-quality ingredients across the country.
Don't hog the candy bowl
Restaurants work together to ward off the unwelcome ghosts of low supplies and manpower. For example, should one team start to run low on pepperoni, nearby restaurants are already standing by to offer reinforcements.
Fly safely on our broomsticks
As drivers head out on busier-than-usual routes, we ask them to take extra precautions, including driving half the speed limit and keeping headlights on, no matter the time of day.
It's pizza (and Halloween) – it has to be FUN!
Team members embrace the season by decorating their restaurants, and teams engage in friendly competition around who can deliver the quickest, most accurate service to customers.