Sept. 28, 2023
Dough & Degrees gives Papa Johns team members the opportunity to attend college and earn their degree at absolutely no cost to them. Papa Johns covers tuition, books and fees – all paid for upfront by Papa Johns, so there are no out-of-pocket costs to team members. Since 2019, more than 75 Papa Johns team members have earned associate's, bachelor's and master's degrees at no cost to them, including David Fortener, a Papa Johns Director of Transportation System & Support who earned his Master's of Business Administration. David shared with The Sauce why he decided to continue his education through Dough & Degrees.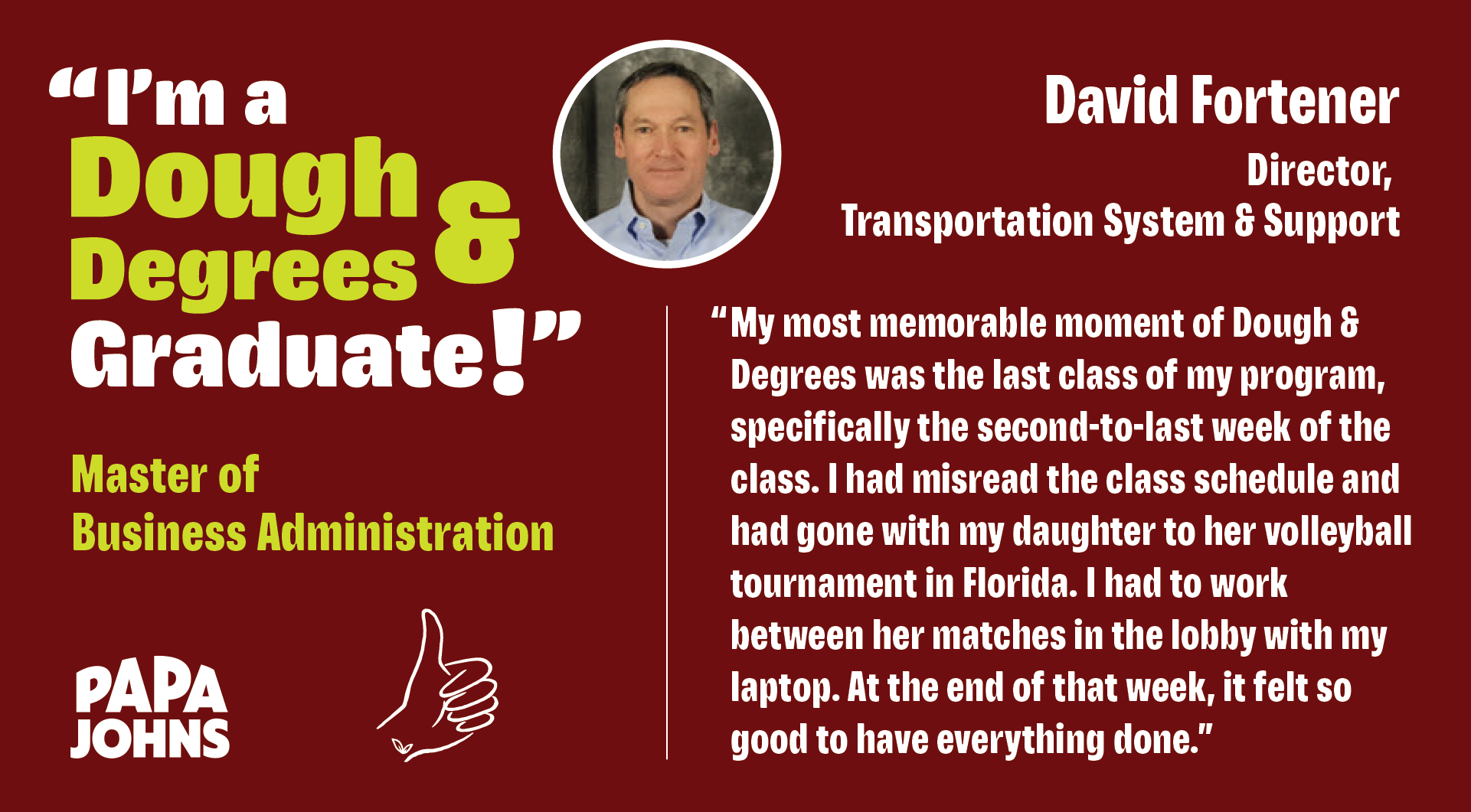 What encouraged you to go back to school?
I am a believer in life-long learning. Wherever I am in life, I try to educate myself in some way. I saw this program as an opportunity to do that in a big way by developing and honing my business acumen. 
Tell me one word that relates to your education journey.
Challenging. I'm further along in my career than most of the folks that may be participating in the program, so I'm balancing a lot of commitments. 
About Dough & Degrees
Team members who work as few as 10 hours per week and have been employed for only 60 days at stores owned by Papa Johns may enroll in Dough & Degrees.

Many Dough & Degrees graduates are now applying their education in new roles across Papa Johns in departments such as Operations Excellence, Marketing and Supply Chain.

Team members can benefit from an expanded range of learning programs available through Dough & Degrees, providing new opportunities for all eligible team members, no matter when their formal education ended or what course of study they wish to pursue.

Dough & Degrees features include:

Associates to Masters Degrees

College credit for on-the-job training

Access to top-notch academic advising and guidance from learning experts

All books and fees covered by Papa Johns
For more information about Dough & Degrees, please visit doughanddegrees.com.
$0
up-front contribution required
$4 million
invested by Papa Johns
12,000
team members eligible
80+%
of students are working on our frontline
325+
Dough & Degrees students since 2019
75+
team members have earned degrees at no cost to them